"Mandela's remarkable life changed history
and its legacy resonates around the world."
* * *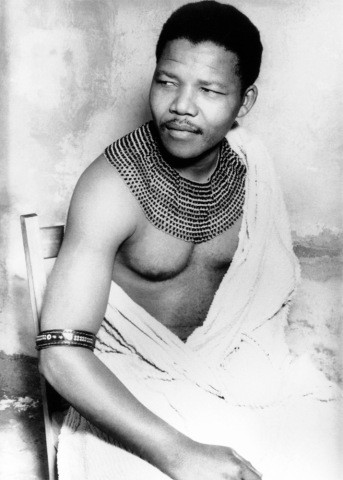 Prodigal Son
Mandela was born on July 18, 1918, in the village of Mviza in South Africa's Eastern Cape. His father was a counselor to a local king. He chose for his son the name Rolihlahla, which translated from Xhosa means literally "pulling a branch off a tree" — or, more colloquially, "troublemaker." A schoolteacher would confer upon him the name Nelson. [TIME World]
* * *
.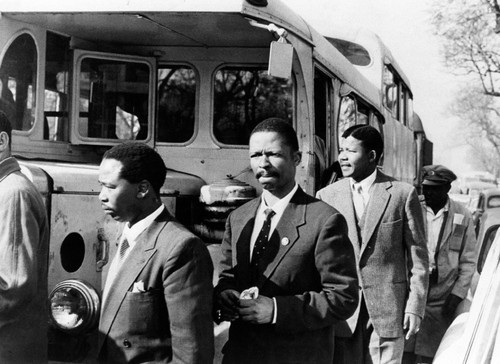 Fighting the Law
Mandela and other co-defendants appear at the famous Treason Trial in Johannesburg, 1956. Mandela, along with his longtime ally Oliver Thambo and 154 others, was charged with treason. The case, which dragged on for five years, by which time all were acquitted, brought the struggle of the ANC to international attention. [TIME World]
* * *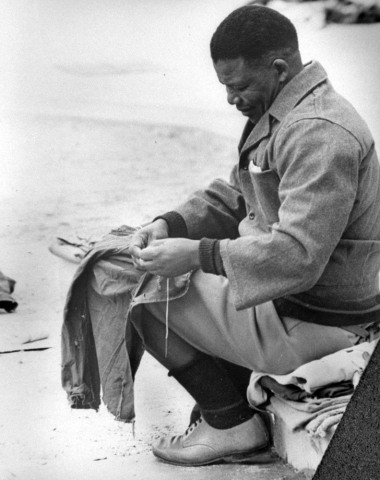 The Long Wait
Mandela sews prison clothes by the shore in 1964. He was sent to the infamous jail at Robben Island, a barren rock off the coast near Cape Town, in 1963 in part for his activities supporting the ANC's militant wing, Umkhonto we Sizwe (the Spear of the Nation). His 27-year-long imprisonment made him the world's most famous political prisoner. [TIME World]
* * *
Free at Last
Mandela walks with his wife Winnie after being released from prison, Feb. 11, 1990. [TIME World]
* * *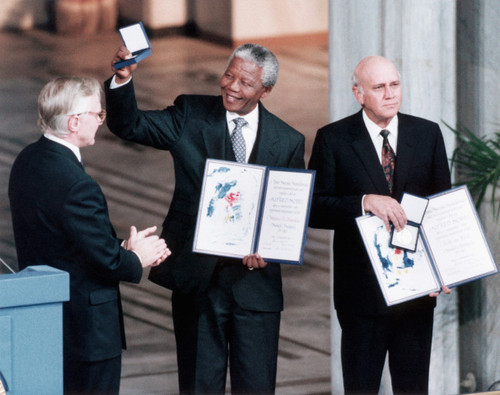 Eye on the Prize
In 1993, Mandela is awarded the Nobel Peace Prize alongside then South African President F.W. de Klerk, whose rapprochement with Mandela and the ANC helped engineer the end of apartheid. [TIME World]
* * *
Electioneering
Mandela greets the crowds on the campaign trail in February 1994 as South Africa readies for its first all-race general election. [TIME World]
* * *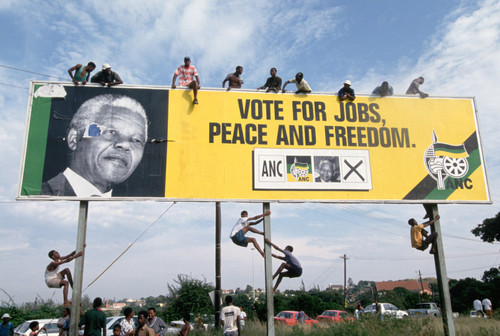 Simple Message
Mandela supporters perch on a billboard in Durban, April 1994. [TIME World]
* * *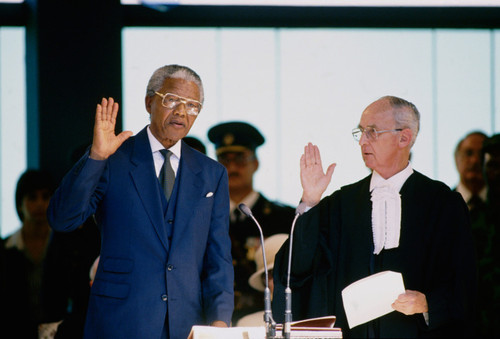 Swearing In
Mandela, 75, takes the oath of office in the political capital Pretoria as the first democratically elected President of South Africa. De Klerk, once an adversary, joined government as Mandela's deputy. [TIME World]
* * *
 Nelson Mandela's Life and Leadership,
Narrated by TIME's Managing Editor, Rick Stengel
* * *
* * *